Vice-President
Gretchen Dale
Treasurer
Jo Ann Roberts, Esq.
Secretary
William Haines, DVM
Vice-Secretary
Steve Parker
Eric Lopkin
Peter Cable
James Basquil
To reach a member of the staff, please address an email to the individual you would like to contact and submit to: info@cthumane.org
Executive Director
James Bias, CAWA
James Bias comes to the Connecticut Humane Society from Texas, where he most recently served as the president and chief executive officer of the SPCA of Texas. James' leadership included overseeing two shelters, three animal hospitals and two mobile units, as well as collaborative spay/neuter and wellness initiatives for the public with multiple animal welfare partners. Prior to that, James served as executive director of the Humane Society SPCA of Bexar County in San Antonio, animal services manager for the city of Albuquerque, and executive director for the Humane Society of North Texas in Fort Worth. During his four decades in animal welfare, he has managed multi-site shelters and clinics, overseen construction of new facilities, successfully completed capital campaigns, supported legislative initiatives, and expanded programming related to sheltering, medicine, outreach and education. He is committed to not only providing a fresh start to homeless pets in Connecticut, but also to keeping pets with families who love them—a growing part of CHS' mission.
James has two dogs, five cats and several backyard chickens. He enjoys woodworking and hiking in his spare time.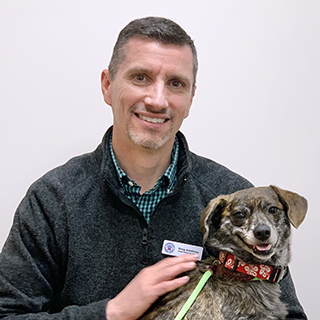 Chief Financial Officer
Gregory Jandreau, CPA
As CFO, Greg is responsible for overseeing all aspects of CHS' finances and information technology. Greg earned a Bachelor's Degree in Accounting from Bentley College (now Bentley University) and has obtained his CPA. He comes to CHS after 14 years as Controller and CFO at a local private school. Greg is excited to be part of such a great team and to do his part to help CHS fulfill its mission.
In his spare time, Greg loves watching and playing sports as well as reading, going to movies and spending time with family and friends. Greg's family includes his wife Julissa, twin daughters Gaby & Lily, and their pet hamster and fish.
Director of Operations
Theresa Geary
As the Director of Operations, Theresa is responsible for directing and overseeing the daily operations in all three of the adoption centers and the Fox Memorial Clinic. This includes animal care, pet intake, adoptions, medical care, behavioral care and facilities maintenance. Theresa earned a Bachelor's Degree from the University of Connecticut in Animal Science. Theresa has always had a connection to animals. As she progressed in her career, her empathy for homeless pets grew as they don't have as many advocates as owned pets. She also developed a great deal of compassion for people who were either severing a bond with a pet or starting a bond: "Both are important as they leave a lasting impact on the person and the pet."
When Theresa is not working, she enjoys spending time with her family, reading, and walking her dogs. Theresa shares her life with her three pets, a miniature poodle mix named Beatrice, a wire-haired Dachshund named Rascal and her Guinea pig, Mr. Pirate.
Director of Development
Barbara Naugle, MS
In her role as Director of Development, Barbara organizes and builds CHS' capacity to raise funds, develops relationships with those who wish to help animals, and teaches us all the benefits of fundraising in order to maintain and grow CHS' programs. She earned a Bachelor's Degree in Social Work from Eastern University and a Master's in Nonprofit Management and Philanthropy from Bay Path University. Barbara loves both cats and dogs and is "thrilled to be part of a team which connects for long-lasting and meaningful relationships."
Barbara is an avid quilter and knitter, and a very amateur artist, and a baker. She enjoys all these activities in her spare time. Her family is completed by husband Chuck, daughter Sadie and their dog Penny.
Director of Human Resources
Jennifer Adams, SHRM-SCP, SPHR
As the Director of Human Resources, Jennifer is responsible for overseeing all aspects of employee relations, benefits, and payroll practices and procedures. She earned a Bachelor's Degree in Spanish and Jewish Near Eastern Studies from Washington University in St. Louis, MO. Jennifer loves "helping employees realize their potential and seeing them grow and evolve in our organization."
Jennifer's hobbies and interests include reading, cooking and learning about wine. She shares her life with her husband and their dog, Jett.
Medical Director
Dr. Mark Gold
Dr. Gold, a 25-year Army veteran, heads up CHS' entire veterinary program, which encompasses all shelter medicine at CHS' three locations (Newington, Waterford and Westport), its reduced-fee Fox Memorial Clinic, and traveling community wellness clinics. With so many pets arriving in need of extensive medical treatment plans, Gold's passion for medicine, science and problem-solving is much needed.
"I love medicine. I love science. I absolutely love animals—they're sentient beings, and care about what's going on in their environment. They love like they've never been hurt. They're deserving of care and need people to take good care of them," said Gold, who has two senior German shorthaired pointers, Blitz and Kingston, at home.
Assistant Director of Development
Kerry Garofano, MS, CFRE
Kerry oversees annual giving, grants and planned giving programs, and leads the marketing and communications and education and outreach teams. Kerry's desire to work with animals developed early on when someone she knew was struggling with too many pets and lost their home. Her experience has shown her firsthand that there are many pathways to the animal welfare field. Her role involves sharing the ways CHS works each and every day to save pets' lives, giving the local community a chance to make pets part of their legacy, and inspiring learners of all ages to make a better world for animals. Kerry earned her Bachelors of Science in Biology at Union College, followed by a Masters in Animals and Public Policy from Tufts Veterinary School.
In her spare time, husband Eric, as well as CHS alum pups Bailey and Pearl and cat Coco, keep her out of trouble. Besides pets, her passions include exploring the outdoors, competing in road races, and all things pizza.
Assistant Director of Operations
Allyson Simerlein
As the Assistant Director of Operations, Allyson is responsible for assisting with directing and overseeing the daily operations of all three adoption centers and the Fox Memorial Clinic. Allyson comes to CHS with a Bachelor's Degree in Biological Foundations of Animal Behavior from Franklin & Marshall College and over 13 years of animal shelter experience. Allyson knew she wanted to work with animals since she was a child and has experience in many animal-related fields including wildlife conservation, birds of prey, and veterinary hospitals, but her passion is in animal rescue. It is not only her calling but gives her "the opportunity to have positive, profound and lasting effects on the lives of animals and people every day."
Allyson shares her life with her husband, children and her beagle, Rocky (aka Rock, Rock-Man, Beagy, Bug, Buggy, Bugster, Buddy). In her leisure time, Allyson enjoys spending time with her family, jogging, embroidering anything and everything, and serving as an officer on the board for her sorority, Kappa Beta Gamma.
Executive Assistant
Mary-Anne Paulino
As the Executive Assistant, Mary-Anne is responsible for supporting the Executive Director and the organization in fulfilling its mission. She earned an Associate's Degree from Manchester Community College. Mary-Anne loves all animals and has rescued many from CHS over the years. "Needless to say, I was thrilled when I saw the ad for a position at CHS."
Mary-Anne loves flower gardening, reading and spending time outdoors. She shares her life with husband Orlando, children Orlando, Gino and Maria. And her family is full of both rescued pets and farm animals including dogs, Maggie, Vegas and Smokey, cat Molly and bearded dragon, Lucy.
District Manager, Waterford
Brandon Guy
Brandon oversees all aspects of Waterford operations, including animal placement and surrender practices, and cleaning and maintenance functions. He resolves issues impacting the staff and clients. He also works to create and maintain relationships with local businesses, residents and other rescue groups and agencies. Brandon studied Exercise Science at Southern Connecticut State University. His love and appreciation of animals has grown since he has been with CHS. At first he enjoyed his career because pets are cute, nice and always there for you. Now he "takes pride in being their voice and working to make sure that they have the best chance at success in their new home."
Brandon enjoys golf, going to the beach, kayaking, bicycling, snowboarding, playing and watching sports. (Go Yankees and Broncos!) His family includes his wife Jen, son Tyler, two dogs Bronx and Bernie, and a cat named Reggie.
District Manager, Westport
Bliss Kern
Bliss is responsible for managing all aspects of the Westport location. Her responsibilities include pet intake, pet adoption, coordinating the medical care of the animals with the veterinary staff, and overseeing the behavioral program. Bliss earned a Bachelor of Arts Degree from the University of California, Santa Cruz, in French and British Literature. She went on to earn an MA/ABD in Eighteenth Century British Literature from Rutgers University. Like so many people Bliss comes to animal welfare work because of her relationship with her first adopted dog, Phineas Manfred. When it was time to get a friend for Phineas, Bliss visited another shelter to adopt and was reminded of the vital role animal welfare plays in the community. She began to volunteer walking dogs and "thus began my journey from academic life to the world of animal welfare".
When Bliss isn't busy making sure that Westport is running smoothly, she enjoys watching BBC Television series, reading contemporary fiction and hiking with her dogs. She is lucky to be one of a family pack that includes husband Jonathan, dogs Phineas, Bertram, and Asta, kitties named Belinda and Arlo, both CHS alums and rabbits named Agnes and Agatha who are CHS alums also.
District Manager, Newington
Tara Pregnolato
Tara oversees all aspects of CHS Newington operations, including animal placement and surrender practices, cleaning and maintenance functions, the foster, behavior and transport programs, and the medical team. Tara resolves issues impacting the animals, staff and clients. She also works to create and maintain relationships with local businesses, residents and other rescue groups and agencies.
Tara graduated from Palm Beach Atlantic University with a degree in Communications and managed volunteer programming for a shelter in South Florida before moving to Connecticut in 2019 with her family. Tara's passion is for people; understanding that it's people who make CHS work for the animals.
Tara enjoys golf, teaching and painting with acrylics, Notre Dame Fighting Irish football, Bruins Hockey, visiting Ireland whenever possible, spending time with family and friends, and the sweet sounds of the band "Alice in Chains." Her family includes her husband of 17 years, Rob, and their five rescue cats: Pinot, Noir, Toula, Sonny and Piia.
Practice Manager, Fox Memorial Clinic
Connie Mercer
Connie is an avid sports enthusiast who was an All-Star athlete in two sports while attending Windsor High School. She went on to attend Mitchell College where she obtained an Associate's Degree in Athletic Training/Physical Education. During her college career she was an All-New England Hall of Famer in two sports. Upon graduation, she began coaching and eventually found herself in the restaurant business where she quickly reached management status. Connie joined the Fox Memorial Clinic team several years ago because she was seeking a career change in an area where she could help others. As practice manager, Connie is responsible for all aspects of the clinic including: administration, personnel, inventory management, animal welfare and care, medical protocols, customer service and giving lots of love to the four-legged patients.
When she is not running the busy clinic, Connie enjoys spending time with her husband Bob, golfing, cooking, walking and playing with her Yorkshire terrier, Divot (a CHS adoptee). Connie also volunteers for several charities and continues to be extremely serious about sports!
Assistant District Manager, Newington
Elizabeth Clavette
Elizabeth has been with CHS for 20 years. In Newington, she proactively manages the daily animal care and other essential functions of the location's operation. Prior to joining the Connecticut Humane Society, Elizabeth attended the Technical School of Animal Husbandry in Poland and had many years of experience with farm animals and as a zoo keeper. She has been an animal lover all her life and now takes pride in "helping pets in need, providing them with proper care and treatment and placing them in their forever homes." In addition to her daily work with CHS, Elizabeth provides foster care for underage puppies.
Elizabeth enjoys gardening, dancing, reading and spending time with family and friends. Her family is completed by boyfriend Stan, and children Jessica and Daniel.
Assistant District Manager, Westport
Justin Hidalgo
Justin is responsible for inventory, ordering, pet intakes, pet adoption, overseeing the medical care of animals and ensuring CHS remains OSHA compliant. He earned a Bachelor's degree in Psychology at Lehman College. He came into animal care and welfare after completing a six-year contract and a ten-month deployment to Afghanistan with the US Army National Guard. As a young kid, he always wanted to help make a positive change in the world, and to lend a helping hand wherever needed. Several years after starting his new career, he realized that he wanted to make a bigger impact and provide care and love for animals that do not have a home or family.
When he is not fostering Westport pets, Justin enjoys backpacking trips into the wilderness with his Shiba Inu, Summit. He is fascinated with the cosmos and his name etched on the Solar Parker Probe currently orbiting the sun and the Mars 2020 mission. He reads self-help books and is a huge fan of horror movies.
Assistant District Manager, Waterford
Denise McNichol
Denise has a long history with CHS beginning as an administrative assistant, a position she held for 27 years before earning her promotion to Assistant District Manager. She took on the Foster Care Coordinator responsibilities for Waterford 18 years ago. In addition to retaining her administrative and foster care duties, Denise is now in charge of the entire district volunteer program and also oversees shelter activities when the District Manager is not on site. Denise studied liberal arts at UConn and computer technology at the former Thames Valley Regional Technical College. Denise has seen CHS go through many changes over the years and is always encouraged to see the impact that the organization has on pet overpopulation and adoption. She is proud "to be a part of an association that strives to help those who can't help themselves and is always looking to the future of animal care."
Denise's favorite hobby is cooking followed closely by sports. She is an enthusiast with an interest in many things, but especially baseball and football. Denise shares her life with husband Jim, son Peyton and her three cats, Miles, BooBoo and Tid Bit.
Major Gifts Manager
Eve Basher, MA
As the Major Gifts Manager, Eve is the first member of the Development team to be based in Fairfield County. Building relationships, undertaking research and organizing events in her area, Eve utilizes her role to keep CHS connected in the local community. She earned a Bachelor's Degree in Communication Studies from the University of San Diego and a Master's Degree in History from the University of Exeter in the United Kingdom. Eve spent her formative years competing nationally in the equestrian world, organizing fundraisers for equine-related groups along the way. Eve adopted her first cat and dog from CHS growing up, and was eager to join the team when she returned from life overseas.
Eve enjoys travelling, reading, and staying active alongside her husband James and rescue dog Dany.
Development Manager
Priscilla Clark, MA, CFRE
As the Development Manager, Priscilla keeps supporters connected to, and engaged in, CHS' mission, and grows CHS' relationships in the community. Priscilla holds a Bachelor of Arts degree in Communications from Albertus Magnus College and a Master of Arts degree in Communications from Rhode Island College. Priscilla has always loved pets, and when she saw all the hard work that goes into animal rescue when adopting two pets in 1998, she started volunteering – and has never stopped.
Priscilla enjoys hiking, visiting museums and volunteering for other causes close to her heart, with her family and pets Simon and Nina, both CHS alumni.
Community Outreach Manager
Ashley Marshall
The responsibilities of the Outreach Manager currently include managing the humane education program, the Scout patch program, the adult education series – PETtalk, and the community pet wellness clinics. Ashley holds a Bachelor's degree in Animal Science from UConn and found a love for volunteering in underserved communities while there. She came to CHS because she "wanted to combine her passion for teaching, helping the community, and pets." She was also an avid FFA member during high school.
In her spare time, Ashley enjoys baking, horseback riding, hiking, kayaking and going on road trips. She shares her life with her four pets, a Doberman Pincher named Ruger, horse Tobe, cat Ella and bearded dragon, Cato.
Marketing and Communications Manager
Susan Wollschlager
Susan joined the CHS team as the marketing and communications manager in September 2016, bringing a volunteer background in animal rescue and professional experience in news reporting and communications. Through her role at CHS, she shares the stories of pets in need and how others can make a difference, gives a (hopefully entertaining) voice to the critters on social media, and is getting closer to being an official cat lady. She graduated from Bucknell University in 2009 with a BSBA in management and double major in creative writing. Her lifelong love for animals led her to rescue cats as a youngster with help from her mom and, later, start the Animal Rescue Club at St. Joseph High School in Trumbull. At Bucknell, she served as president of the Students Helping Animals club, working with a cat shelter, a dog rescue, a horse rescue and a wildlife sanctuary.
She resides with her husband Mike, cat Autumn, rabbit Josie and dog Grover, a CHS alum. Susan enjoys cooking, getting outside and spending time in Vermont.
Volunteer Manager
Melissa Zaluski
Melissa is in charge of overseeing the volunteer program, including recruiting, training, recognition efforts and more. She also assists with the coordination of independent service projects. Melissa received a Bachelor's Degree in English and Creative Writing from Colby College and has been certified in volunteer administration by the Council for Certification in Volunteer Administration. Melissa has been passionate about helping homeless animals since she was a child. At a young age, she held fundraisers and collections to benefit animal welfare groups.
Melissa enjoys kayaking, hiking, reading and gardening. Melissa's family is completed by husband Greg, cats Everest and Chuck, and dog Pepper…all CHS alums.