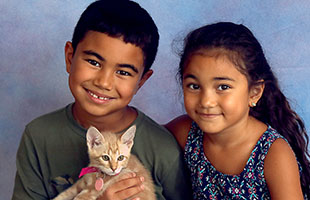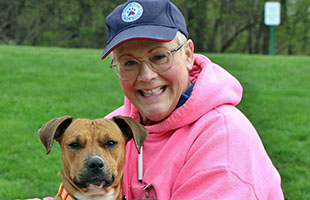 Join the Wags & Whiskers Club
When a pet in crisis has nowhere else to turn, the Connecticut Humane Society is able to respond with open arms because of supporters like you. By becoming a part of a caring community of monthly donors, you will provide critical support all year long to rescue pets from suffering, cruelty and neglect. YOU will heal them, body and soul. Show you care all year long.
News & Announcements
2 Grants Leave Pets Smiling
Here's how you put a smile on a pet's face: Give them a chance, no matter their age.
Volunteer Spotlight
When Kim Morrissette isn't busy working and volunteering, what is her favorite activity with her kitties?
Lemonade Stand Challenge
Have a lemonade stand to support CHS pets and get your donation matched by local sponsors!
STORIES OF HOPE
Preserving a Lifelong Bond
Echo's been with her dad since she was a puppy. But an unaffordable veterinary surgery left them feeling hopeless. Soon, CHS found a way for them to stay friends for life.
Upcoming Events
PaCK: Pets and Caring Kids
Join us for an engaging program at Otis Library to teach kids about how to care for pets.
Pet Wash Giveback
Summer is fun for dogs. But they get dirty. Wash your dog today and save pets' lives!
Chipotle Newington Giveback
Your dinner out saves pets' lives. This evening, Chipotle will donate 33% of your meal to the pets.