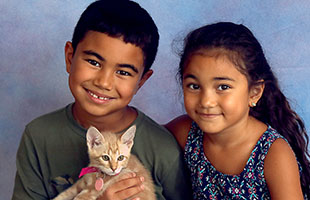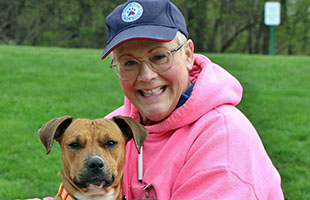 Join the Wags & Whiskers Club
When a pet in crisis has nowhere else to turn, the Connecticut Humane Society is able to respond with open arms because of supporters like you. By becoming a part of a caring community of monthly donors, you will provide critical support all year long to rescue pets from suffering, cruelty and neglect. YOU will heal them, body and soul. Show you care all year long.
News & Announcements
Volunteer Spotlight
Lisa has a unique way of connecting with the felines to provide a safe space to relax. What is it?
Grant Advances Vet Care
Thanks to a grant from the Wiederhold Foundation, x-rays can soon be performed at CHS Westport.
Watch Her Blossom
Like thousands of pets, Flower has been given a fresh start. She begins her journey on just three legs.
STORIES OF HOPE
Everybody Loves George
George's fan club at CHS was pretty extensive. If there was a Doggo Hall of Fame, he would surely be at the top of the nomination list. Here's why.
Upcoming Events
Springtime Unleashed
Support CHS' Covid Relief Fund. Preview auction items now so you're ready to bid Thursday!
Virtual PETtalk: Separation Anxiety in Dogs
Separation anxiety can be a big challenge—a resolution is possible!
Guinea Pig Tanks
Let your critter's need for fun while feeling safe save other critters' lives!